David Michael O'Quinn:

(Novel)
---

"The Family Portraits"

EXCERPT: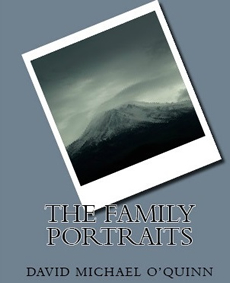 Prologue
In a Brownstone on Newbury Street in Downtown Boston, Shayne Gomes walks into the foyer of his apartment and hangs his coat on one of the five coat hooks to his left. He closes the door behind him and puts his briefcase on the bench below the hooks. He then steps forward. Directly in front of him is the staircase, to his left past the wall of coats is a pass-through where the living room is, to the right of the staircase between the living room wall is a hallway leading to the kitchen, and to the left of the staircase is the open door of the powder room. Shayne walks into the living room looking around.
       In front of him against the wall is a beige and brown striped pillow back sofa with a brown paisley throw and white with brown/beige floral-patterned throw pillows. A brown paisley chair-and-a-half with matching ottoman is to the right of the sofa. Directly in front of the sofa is an oblong coffee table in distressed alabaster and cherry wood top. The cable remote, TV remote, and Xbox 360 controller are resting on top of the September 2008 issue of TV Guide next to a McIntosh Apple candle in a black wrought iron holder in the middle. On each side of the sofa are matching distressed alabaster and cherry wood topped end tables each with a blue Crackle Table lamp. The end table closest to the chair-and-a-half has fake Hydrangeas in a pewter pot. Above the sofa is a black and white canvas wall art of Boston's Tobin Bridge. In front of the chair-and-a-half to the right of the sofa is a double window; in front of the double window is a three drawer two glass cabinet distressed alabaster and cherry wood top TV console. A 40 inch flat screen TV sits on top with a photo of Shayne's parents, sister, brother, sister-in-law, and their kids on one side of the TV. A picture of Shayne and his fiancée Desiré Andersen sits on the other side in front of a picture of Desiré's adoptive parents Ritchard &Kimberly Andersen, Desiré, Shayne, and her adoptive siblings Bryant, Monica, & Rachel on Lake Squam in Holderness, New Hampshire during summer. Shayne finally sits in the chair-and-a-half with his feet on the outside of the ottoman. The sunlight coming from the window behind the TV forces Shayne to get up and turn the blinds closed. As he does he notices a shoebox behind the console. He moves the console forward and grabs the shoebox moving the console back in place. He plops down in the chair-and-a-half and places the small shoebox on the coffee table in front of him. He opens it and sees letters, journals, and a binder. He first reads a letter detailing Elijah's first day in Pheasant Hill Village in Feeding Hills, Massachusetts. He takes his shoes off on the brown paisley area rug, and begins to read.
Dorian Davis opens his dark brown eyes in the staunch white hospital room. The dark room is illuminated by the one overhead lamp about his mother Dorothea. He closes his eyes again as he shifts in his chair moving the baby blue blanket up under his chin. Dorothea stares at him tucked into her hospital bed next to him.
       Tubes run in and out of her as she breathes through the oxygen mask. Her shaky hand feebly finds the tray table hovering over her legs. She pulls the tray table on wheels with a notepad and pen on it closer to her.
       Before I go I must be honest. She tries to speak but no sound comes out. Oh right I can't talk. The stroke. Well I can still write. It may take me all night, but I have to explain to Eli-Desiré why I did what I did. She has to know.
       As Dorothea's wrinkled dark beige hand reaches for the pen it suddenly falls by her side. Her heart monitor flatlines as her head turns to the side. The sound of the flat beep awakens Dorian in his chair.
       Outside of the hospital room a nurse rushes past Desiré and Shayne. As one nurse after another pass by the Desiré stops one who's about to head into Dorothea's hospital room.
       "What is going on? My name is Desiré Andersen. I am Dorothea's…friend." Desiré says desperately holding onto the nurse's shoulders to prevent her from leaving.  Desiré's fiancé Shayne Gomes pulls Desiré back. "No Shayne. She called me here, and I need to know why."
       Two other nurses and a doctor file through Dorothea's door. Desiré releases the nurse who darts into the room as Shayne grabs Desiré's elbow. He ushers her to the Waiting Area diagonal from Dorothea's room. He sits down at the seat closest to her. She looks up at the hospital room and sees Dorian standing around aimlessly in front of the now closed door. She notices he's holding a brown paper bag. Without saying a word to Shayne she walks towards Dorian.
       The siblings stand in front of each other wordless. He hands her the brown paper bag which she grabs and places on the Nurses' Station counter to the right. Inside are journals, letters, and a binder. She holds a couple in her hand as she turns to look at him.
       "Thank you for coming. I know our past and all, but …" Dorian pauses before continuing. "I haven't been a good brother to you. In fact I've been pretty shitty, but our mother, your biological mother is dying in there. I don't expect you to forgive me or her. But she gave me these to give to you. Said you needed an explanation. I haven't read them at all, but I hope it at least answers some…"
       Desiré turns around, throws the journals back in the bag, and then turns back around to face Dorian. "THOSE journals won't tell me why my brother the one guy I use to look up to after our father died made my life miserable. Lying on me, telling everyone in school I was gay, and beating me up for no reason. Why my brother wasn't there for me AT ALL while I transitioned. Why my brother my own flesh and blood never once called or checked on me since. No they won't give me answers. They will tell me why she failed as a mother, but not you."
       Dorian puts his head down in embarrassment. "I know." He sighs. "What can I do?"
       Desiré smirks. "Nothing. You can do nothing. I shouldn't have come here. I have a new life, a new family, a new me. I don't need or want you guys." She tucks the bag of journals under her arm and stalks back towards Shayne. She bends down, picks up her purse from her seat, and storms off down the hall in the direction she and Shayne came. She throws the bag in the trash can as she walks by. Dorian watches as she continues to walk Shayne fishes it out of the trash.
       In the Passenger's seat of Shayne's car, Desiré sits seething. Shayne gets in next to her and puts the bag into her lap. She rolls her eyes looking at him.
       "You know you want answers. Whether you have a new family, new life, or new you." He drives as she pulls out one of the journals and begins reading it.
It was an unseasonal summer day on September 1, 1985 when we moved into Pheasant Hill Village in Feeding Hills. You were ten years-old and Dorian was sixteen. You had just met eight year-old Alicia and her six year-old triplet siblings Bryant, Monica, and Rachel. I saw you guys running over to what looked like a rubber band fight. My first instinct was to stop you, but then I realized I can't protect you from everything…funny how that sounds now right?
       I remember getting out of the packed station wagon and smiling. I knew in my heart great things were about to happen for us. Or maybe I just hoped. As I smiled I started to look around at the manicured front lawns, the beige shingled townhouses with white trim, and the red numbered plagues on each townhouse door.
       It was as if I hadn't taken the tour prior to signing the lease, but suddenly everything looked foreign. The townhouses were set up with one first floor building on the left next to a pair of two bedroom two-story townhouses next to a four bedroom three-story townhouse the top floor accentuated with a balcony next to a three bedroom two-story townhouse. These townhouse clusters were separated by a two-story building called by the residents the Elder Building. It had four one-bedroom apartments for the older residents.
       As I turned around from my townhouse, I noticed a fenced in Olympic-sized pool to the right of the beige shingled with white trim mailbox house which was to the left of the fenced in on three sides basketball court and fully gated tennis court. The slam of car door made me snap around to see Dorian standing there.
       "Why's he allowed to go off, and I have to help unpack?" Dorian complained.
       I sighed. "Let him get situated. You're his older brother."
       "It's just not fair." Dorian said as he threw his Walkman through the window into the backseat. He stalked off to the open tailgate and took out a few items. He went up to the front door of "36" then turned to me. "HELLO you gonna give me the key? I can't unpack everything on the lawn."
       I sighed as I fished in my pocket, retrieved the key, and then held open the Storm Door as I unlocked the front door. I thought to myself, I hope sharing a room changes his outlook on things.
       As I watched Dorian walked into the apartment with bags and methodically back to the car to grab more items. An oversized U-Haul and a Pickup Truck full of furniture in the back pulled up in front of my station wagon. My younger sister Priscilla and her yella husband Pharrell along with their two teenage sons Parcél and Larenz and their daughter Evania got out of the U-Haul and immediately started unloading it. My older sister Millicent and her younger boyfriend Solomon O'Shea got out of the pickup truck; I remember nodding to Millicent as she opened the back cab to let those damn bad ass kids of hers out; Fermin and his twin sister Vanita were the most mischievous little brats you ever met. I never understood why she even brought them to help when she knew damn well Bebe's kids wouldn't. I knew for a fact they would stand around, complain about wanting to be home playing their Atari, and Fermin even at fourteen would suck his damn thumb. I hated those damn kids; still do. Before dealing with my damn family I needed a break.
       I walked over and hugged Priscilla and her kids thanking them for coming. I then did the same for Millicent and Pharrell, who told me how pretty I looked. Solomon always made me uncomfortable, a fact Millicent seemed to ignore. After she divorced the twins' crackhead father managing to stay in that farce of a marriage for close to sixteen years she took up with her boss, a man she told me on several occasions she hated before because he made fun of her children's names.
       "I put my babies' pictures up at my desk today." Millicent had told me. "And he asked 'What are their names?' I said 'Fermin and Vanita.' He said 'Vermin and Anita?' If he wasn't such an Uncle Tom I'd give him some too. But he's just so white acting. Can't stand his buttoned up ass."
       But apparently when divorcing a man whose net worth in the marriage was negative $5,000 and whom had signed over parental rights, the sight of her Customer Service Manager boss' creased khakis and polo shirts didn't seem so bad. Suddenly Solomon had "kind eyes and a fun sense of humor." Why he was with my gold-digging sister and her bratty children I never understood, but being a Black woman in the eighties of one thing I was sure of: Solomon flirts with me. Maybe Millie puts up with it because he buys her and the kids whatever they want. Maybe they got an open relationship. Whatever the case he always made me uncomfortable. I had a husband named Kendrick; he died, and I'm not looking to date or hookup.
       I asked my sisters if it was okay to start without me. As crazy as Millie and Priscilla made me sometimes they understood. I had been cooped up in that shrine to Kendrick for four years after he died. Although both Millie and Priscilla offered to help me with my mortgage I knew it was time to move on; I also couldn't live with my mother either. Priscilla put a soothing hand on my back and told me she'd manage things and to give myself as much time as I needed. I hugged her then walked down the street.
       Our apartment was on Pheasant Run Drive; the street I had begun walking down. As I walked past our townhouse cluster and the next Elder building with multicolored minigardens under the living room windows, I noticed a pattern.  One townhouse cluster then an Elder building. Another townhouse cluster then an Elder building. The pattern repeated itself on both sides ten times before Pheasant Run Drive turned right into Stillbrook Lane. Stillbrook Lane only had two townhouse clusters and Elder building patterns on its right side with woods to the left. At the end of Stillbrook Lane it forked; to the left was Hendom Drive, and to right was into Eagle Path Way.  Eagle Path Way began with two townhouse clusters and Elder building patterns on its left; after the second patter it housed ten townhouse clusters and Elder building patterns on both sides. Eagle Path Way ended by intersecting at the front of Pheasant Run Drive.
       During my walk an older woman on Pheasant Run Drive walked out on her balcony to shake out her rug from waved at me. A middle aged couple unpacked groceries from their car in a parking lot on Stillbrook Lane smiled at me. I walked by a younger couple following their son a big wheel on Eagle Path Way; they stopped to introduce themselves. The medium height slender White man was Jeremiah Frame and his stocky boisterious Asian wife was Georgina. Their pale white ten year-old son with sloe eyes was Jeremy. I explained I had a ten year-old son too. We talked idly about the complex walking down Eagle Path Way past the rubber band fight still going on; Jeremy wheeled to join in. They told me they had a son that was sixteen named George; I was so excited telling them I had a sixteen year old son Dorian.
       In the parking lot behind my apartment we turned to the right up a path that lead in the middle of the complex. Nestled directly in the middle was a huge gated playground and a walk path away a huge garden. The sand in the playground kicked up as he runs over to the slide to kids he knew. Jeremiah, Georgina, and I sat down at the shuffleboard benches directly behind the playground beside the garden.  Jeremiah said it was okay for us to explore so Georgina took me over to the garden. I'd never seen anything like it.
       Georgina and I stood at the front gate of the garden. Cherry Tomatoes twisted up wired upside down cones. The tops of carrots and turnips laid in rows in the dirt. Cucumbers and squash grew in corner patches next to a row of romaine lettuce. Georgina pointed at other rows of items from strawberries and winter melons to string beans and eggplant. My eyes became fixated on the small fenced off section at the very end of the front gate. Georgina told me that was the Garnishment Gallery; in it grew pearl onions, garlic, basil, thyme, chives, and leek. I remember how my mouth salivated. Just then a beautiful mane of blond hair popped up from between the Brussel Sprouts and Collard Greens directly in front of Garnishment Gallery.
       As she stood up the blond woman wiped her forehead with the back of her soiled gardening glove. My chuckle in the quiet garden forced her eyes to see Georgina and I standing there. She waves to Georgina as she walks over.
       Georgina whispered through gritty teeth and a plastered smile. "That's Kimberly Andersen. She moved here a few years ago. Isn't she just perfect?" She added a fake laugh while she hugged Kimberly. "Oh Kimmy, don't you look precious. How are you?"
       Kimberly stood there in her dirty splattered blue overalls, equally dirty rubber green boots, and thin red plaid flannel underneath. She smiled as the wind blew through her messy blond ponytail on top of her head. She began walking towards us.
       "I've just been collecting Brussel Sprouts before the being rainstorm tomorrow." She looked at me. "Is this Dorothea?" She said as she tucked her right gloved hand under her armpit pulling the glove off and extended her hand to me. I shook it. "I'm Kimberly Andersen. I'm sure Georgina told you dreadful stories about my rambunctious kids."
       Surprised by this statement I responded. "No. She actually didn't mention anything. Which ones are yours?" I said for some reason looking around the garden like they were hiding.
       Kimberly took her hand back, dropped the right hand glove into her left hand, and shoved her right hand back in. "Oh no they aren't here. They said they would go meet you guys. Four little blonds. One  taller. A set of triplets."
       "Those cute things are yours?" I said with actual adoration. "Oh my goodness they are just as cute as they wanna be." I noticed my Mississippi accent came out that I had tried to suppress all these years. I cleared my throat. "They are too cute."
       I trailed off as Kimberly explained she and her husband Ritchard moved here with the kids after their last apartment in West Springfield got bought by the city to build a Wal-Mart; a place they called home since the birth of their eldest daughter Alicia. She talked like this in front of Georgina whose nosy nature I could tell was taking mental notes. As she talked we walked to the backyard of her four bedroom three-story townhouse directly across from the garden front gate. We sat at her wooden picnic table as she removed her gloves.
       "I know you are unpacking, but if you don't want to bother making supper you're more than welcome to come over with the kids." Kimberly said.
       Just as she said that you, Alicia, Bryant, Rachel, and Monica came up to the picnic table. Not sure how but you heard the words "welcome" and "come over" so far away, but I knew it was settled.